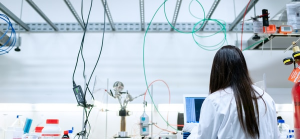 For Economic design of foundations of High rise Buildings, Malls, Factories, Railway Over Bridges, Bridges etc, it is necessary to carry out Geotechnical Soil Investigation at site.
We undertake Complete Geotechnical Soil Investigations to determine the Safe Bearing Capacity (S.B.C.) of Soil, Moorum or Rock by conducting detailed Bore Log at site. We also undertake complete Field and Laboratory testing required for designing like Plate Load test (PLT), Standard Penetration Test (SPT), Dynamic Cone Penetration test (DCPT) etc.
Geotechnical Soil Investigations :
Complete Geotechnical soil investigations facility with detailed Bore Log, SBC etc for design of foundations for high rise buildings, townships, colonies, culverts, bridges and also for quarry purpose. Facilities for field tests like Plate Load Test, SPT and DCPT also available.